Who will you betray?
Her Majesty Keres the Seventh, leader of the ISC vs Larus, the proprietor of the black market. Tensions between the two rebel members hasrisen to the point that one must leave if the rebellion is to survive. Neither trust the other, both claim the other is lying. Who will you side with? Who will you betray?
Keres claims that Larus knows more about the mysterious substance Blood Amber than he is letting on. Why does he need so much? What does he use it for. What dark knowledge did he glean when he was working for VSec? And why did they lock him up in the first place?
Larus claims that you cannot trust the mercenary leader after, what he claims, is an obvious betrayal by the Iron Star forces. After all,
you
bought the loyalty of the Mercenary company, and the VEGA Federation has far deeper pockets than the rebels...
Welcome to the May feature event: Iron Blood.
This will be a Base defence, Event store AND Choose a side style event.
Points are awarded by obliterating the event fleets in sector. Earn enough points, and fill the VEGA alert bar, and you will trigger a base attack on your base. These siege fleets are worth a ton of points. Players can then redeem these points in the event store for Event blueprints and Strongboxes.
Depending on what side the rebels choose, the story of VEGA Conflict will change. This time the side with the
most event points
will be the winner.
Note that only the storyline will be altered, no gameplay or prizes will be different as a result of the players choice.
The prizes are all classic content this round. The prizes are:


Heretic Cruiser.

Hurricane Frigate.

Bomber Wing.

Ionised Optics.

Net Torpedo Turret

Binary Thruster.

Elite T3-T4 Core box.

T3-T4 Core Box

T2-T3 Core box.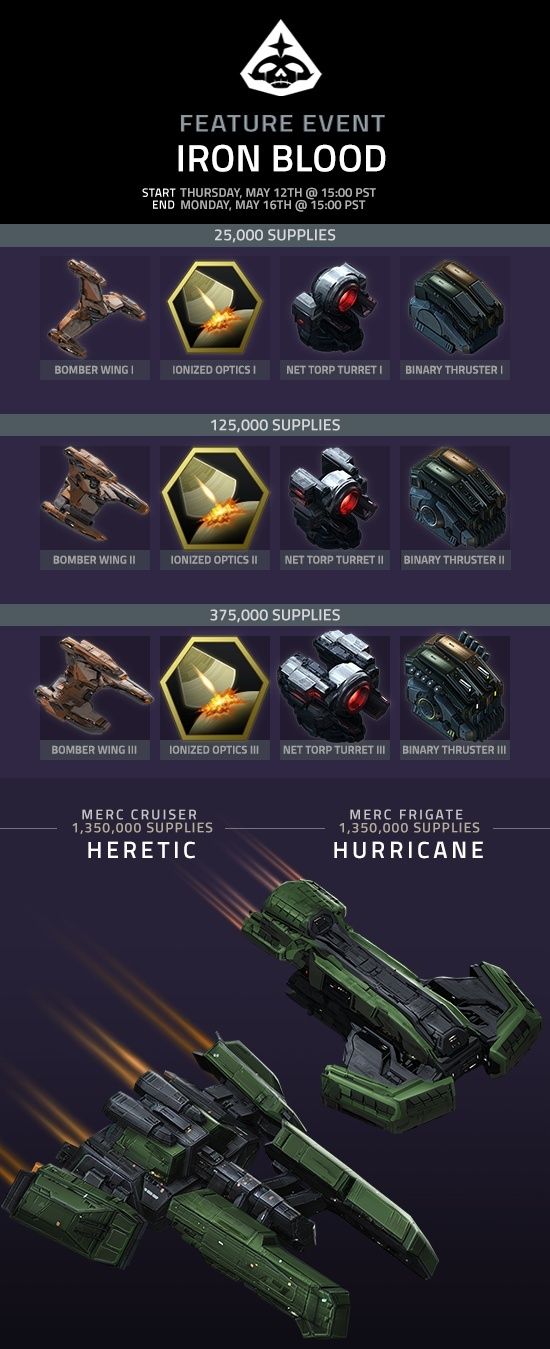 Last edited by DM DARKDRAGON14 on Thu May 12, 2016 10:02 pm; edited 5 times in total

Shadow

CALI Alliance Leader





Number of posts

: 4


Age

: 32


Location

: USA, California, Bay Area


Gamer Tag

: SHARK_BAY_AREA


Points :

2440


Reputation :

6


Registration date :

2016-04-04



Yeeeaahhhhhh the page looks awesome guys! Great work!

Shadow

CALI Alliance Leader





Number of posts

: 4


Age

: 32


Location

: USA, California, Bay Area


Gamer Tag

: SHARK_BAY_AREA


Points :

2440


Reputation :

6


Registration date :

2016-04-04




---
Permissions in this forum:
You
cannot
reply to topics in this forum